Will Facebook Pages Replace Small Business Websites?
Creating a Facebook business page is free and provides you with the ability to reach millions of potential new customers, but is it enough for your small business?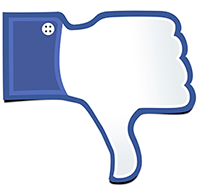 Facebook pages are an excellent way to interact with your users, especially if you're providing quality content to maintain the interaction. However, if your Facebook followers grow weary of your content they may hide your posts from their timeline or stop following you all together.
Perhaps the largest limitation with Facebook Pages is the activity distractions (Grandma's Cat Pictures, Funny Dog Videos, etc) and lack of overall brand control. Your posts may have your voice and your photos that describe your business services but you are only able to control a small part of the overall user experience on the Facebook page. After all, it is still a Facebook page and Facebook will never give the complete brand experience that a dedicated website will.
Also, valuable information isn't always readily available right when a user lands on the page. Your business address may be on your page, along with your phone number, but that isn't necessarily enough. Many potential customers want to learn a little more about who you are and what you're about. In comparison, a dedicated website enables you to completely control your brand and acts as a main hub on the web where interested, potential customers can go for all the information they're looking for.
A dedicated website also has Google search on its side. It's true a Facebook page can be found via a search engine, but it doesn't provide the same comprehensive SEO control of a dedicated website. This point should not be overlooked. A website enables you to tailor your content to the exact kind of phrases and keywords your potential customers are searching for, compared to a Facebook page that is limited in this aspect. Showing up as highly as possible in online searches is a critical component of any business' acquisition strategy.
In short, should you have a Facebook page for your small business? Yes, absolutely. It's free and it's brand exposure. Is it enough? Probably not. To create the kind of digital presence that is required for a small business to succeed in today's world, a dedicated website isn't a nice-to-have, it's a necessity.